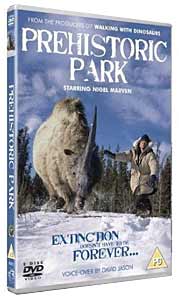 It was a hot day in late July when I spoke to George. So hot, in fact, that there was a power-cut at Frame-Store (the production facility where George was working) which meant I had to track George down to his home in Sidcup for the following telephone interview.
George has built quite a reputation, with top effects credits for the Walking with series as well as movies like Merlin and Alice in Wonderland under his belt.
Stuart McLean: Hi George…I'd like to start by asking why you think people are so interested in dinosaurs and prehistoric creatures?
George Roper: Well, I think it's because it's such a different world that existed before we did. It's really totally different. We have some pretty fantastic creatures around today but nothing quite like these.
Stuart McLean: Children seem peculiarly interested in them…
George Roper: Sure. It's just a completely fascinating thing for them. You've got these huge creatures at the top of the food chain. They find it scary but fascinating too.
Stuart McLean: Does working on shows like this get you thinking about our ancestry... our forbears? Or do you just get absorbed in the technicalities of the thing?
George Roper: Absolutely! We've been through all this with the Walking with series. Through beasts and cavemen in particular, and it really makes you think about where we came from. Evolution is fascinating – and you have to get involved in it at that detail to get it right. You have to think about stuff like was there grass around for example... and there wasn't!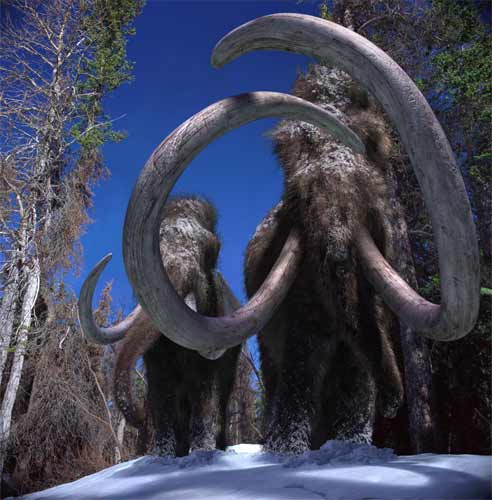 Stuart McLean: Which I understand gave you some trouble finding locations?
George Roper: Yeah... (laughs) they try to find locations that work but sometimes we have to remove grass or add foliage or whatever. We've done so many series now that we've got a few locations that we know will work. Episode 1, for example, was a place in Chile that we'd previously used for Walking with. There are only certain places that have the vastness of the environment, the epic scale that we need to find.
Stuart McLean: Where did the idea for the new series come from?
George Roper: It was really Jasper James and Tim Haynes from Impossible Pictures. I think it was Tim who came up with the original idea though it's been knocking about for a couple of years. We've been working on it pretty solidly for about 18 months now.
Stuart McLean: What did you think of the choice of David Jason as a narrator?
George Roper: Personally I thought it was fantastic. He brings friendliness to the subject and I suppose Prehistoric Park is a bit more tongue in cheek in a way than the Walking with series. It's very accessible. When the first episode was aired that was the first time I'd actually seen it with Jason's narration. It was quite nice as he brings a bit of sarcasm and humour to it.
Stuart McLean: Did you use much of the CGI material from previous series as a reference?
George Roper: This time it was for ITV and not the BBC so we really had to start from the beginning and build everything again. At Impossible Pictures, we start by having physical models made of creatures from fossilised evidence. Then we scan these models in. A company called Soho Cyber-scan who are a part of Framestore and they have a laser scanner which 3D replicates the model into the computer.
Stuart McLean: So the creatures really start off being made by hand?
George Roper: Absolutely. That's where they begin.
Stuart McLean: So effects purists, the CGI backlash, could be a bit wrong-footed in their criticism in a way?
George Roper: Yeah... we use different model-makers for different things as they model things in very different ways sometimes.
Stuart McLean: How scientifically rigorous are these re-creations and how much is just creative conjecture?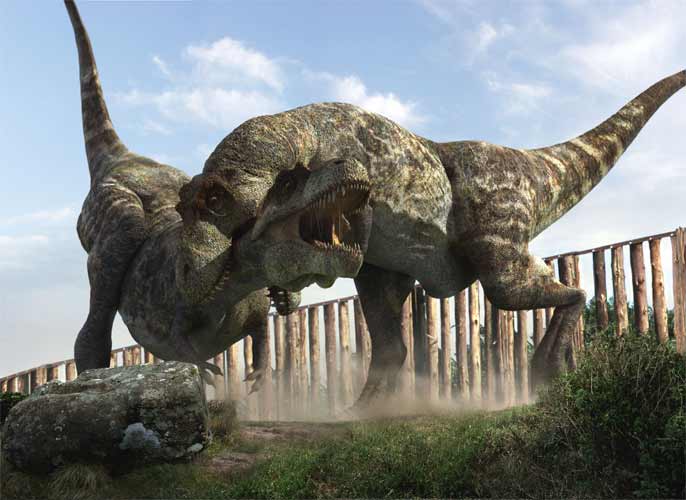 George Roper: It's a combination of both. Clearly we extract as much detail from the evidence as we can. You find evidence in fossils and we rely on whatever information scientists can tell us. What tends to happen is, once the model has been made, we scan it in and then start animating it. At that point we speak to the Palaeontologists about how they think the creatures would walk and move, and maybe we'll find out from fossil evidence that the creatures would have been likely to have moved in a certain way. Over the years we've been doing it we've learned a lot.
Stuart McLean: So it's as close to the real thing as we're ever likely to get?
George Roper: I would have thought that it's as close as you're likely to get because we work with the actual physics of the creature, combined with the knowledge that the palaeontologists bring.
Stuart McLean: I'm guessing that it's challenging for your team to not only get the animation right but to please the experts in the field and then alter your work depending on their input?
George Roper: You're right... from the Walking with days there's always been criticism of the project with people saying 'how did they know that?'. You can but best guess really... and that goes for textures, colours and so on. We just do the best we can.
Stuart McLean: Why did you go for the docu-drama approach this time?
George Roper: Some of it was to get people in to help give people an idea of scale. You can see that a T-Rex was huge. You really get an idea of what they were like.
Stuart McLean: How relevant do you think the show is to our modern world and issues of shrinking bio-diversity in particular?
George Roper: I don't know... to a certain extent now we have some control, whereas it wasn't our fault that the Dinosaurs became extinct. But maybe this will help people stop and think about preserving the amazing creatures that we have around us today. The programme highlights all this amazing stuff that was going on which has now gone, and maybe we should try to take more care of the future.
Stuart McLean: What sort of feedback have you had about the show?
George Roper: It's been kind of positive. I think people were quite surprised that it's a little bit tongue in cheek. People are used to the Walking with format so to have Bob the Park-keeper, who's quite a jovial character, is really different. But the feedback's generally good. I think the effects have improved. There's just so much CG (Computer Graphics) in there; a 750 shot count for the series which is higher than say a movie like Jurassic which had only 70. There's at least twenty minutes of CG stuff every programme. And the animation's better, the textures are better, and we can really get closer to the real creature.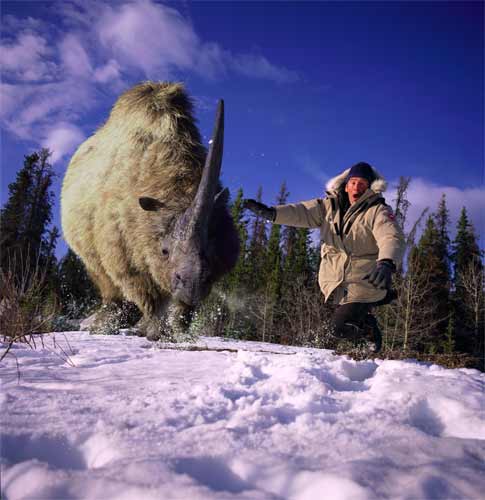 Stuart McLean: Changing the subject, what movies or TV shows inspired you to get involved in this line of work?
George Roper: Interesting question! Like Many people of my generation I loved Star Wars. It was the first film that I'd seen with digital effects and was the first film that went into depth about the making–of. I liked all that as much as the film itself. It's probably what got me started.
Stuart McLean: Tell me about the Prehistoric Park DVD release, out on the 28th August. I understand that there's a Making of featurette on that.
George Roper: Yeah... Building the Impossible. I haven't seen it myself... I'm sure they'll cut me out of it! No, there's loads of information about the locations and how we did it. It also shows how we worked with the Palaeontologist's ideas. Probably loads of information, though I haven't seen it yet.
Stuart McLean: Will you watch it?
George Roper: Definitely. I've got a 14-month year old who kinda knows what's going on and certainly likes animals. I've had good feedback from friends too who have got children. They say their kids really want to go and visit Prehistoric Park!
Stuart McLean: There's got to be a franchise opportunity there.
George Roper: We can only hope!
Stuart McLean: What's next for you?
George Roper: Commercials for a little while... and a film project in the pipeline.
Stuart McLean: Will you miss working on Prehistoric Park.
George Roper: Yeah. I've been working on Dinosaurs for ten years now and I never get bored with it. Of course, it can be an office job, stuck in a dark room for 18 months, but I love it.
Stuart McLean for DVD Reviewer